Hi, I'm the Owner/Director, Christine! Children and Early Childhood Education have always been a passion of mine.
Bright Beginnings serves children from 8 weeks – 8 years old.  We enroll children into our school on a space available basis. Upon enrollment, children are assigned to a classroom based on age and developmental level.
My journey began in 1999 as an assistant teacher at a preschool as a part time, after school job. After graduating high school, with hopes of one day opening my own school, I got my degree in Early Childhood Education and Administration while continuing to work in a childcare center throughout my schooling.
I also became a mother of two amazing daughters, Jaylyn & Ariah. Being a mom and horses are two other things I am passionate about and in my spare time you can find me with my family or my horses! I feel beyond blessed to own Bright Beginnings, as it has always been a dream of mine to have my own school.
Here at Bright Beginnings our teachers are passionately dedicated to ensuring your child is cared for in a nurturing and educational environment. 
Here at Bright Beginnings, we understand that every child is different, and every child has different needs.
Bright Beginning's policy is to accept children in compliance with state, local or federal laws pertaining to the provision of services to individuals with disabilities.  We review each child's needs on a case-by-case basis and make reasonable accommodations for any child who can safely participate in a group childcare environment.  Please discuss your child's needs with the center Director before you enroll.  All information provided can ensure your child will receive the best possible care.
We are licensed by the State of Massachusetts and follow all policies and guidelines as they adhere to the state to measure the quality of our program.  We conduct progress reports and screenings based on the age group periodically as required by the Massachusetts regulations.  We also complete additional screenings and help families make referrals to outside agencies as needed.
EEC is the agency that oversees early education and care for Massachusetts located at 1 Washington St. Taunton, MA 02780.  As the agency that licenses childcare, they have quality standards that continues to abide by to ensure the educational value and health and safety for your child. For more information, to obtain a copy of EEC regulations, information regarding regulatory compliance history, or to contact EEC please go to www.mass.gov or call 508-828-5025.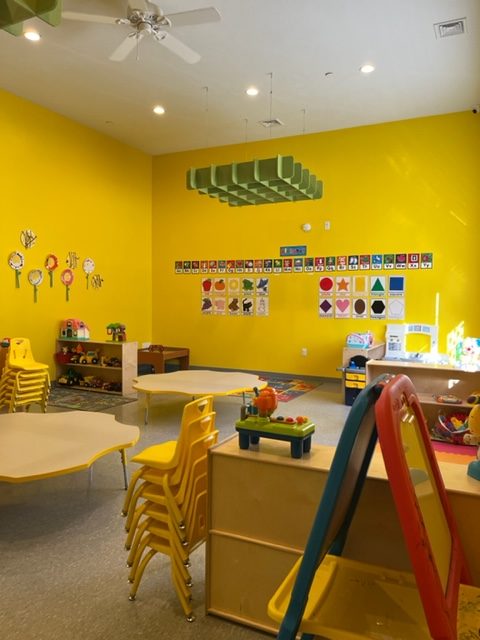 Our age guidelines are as follows:
Infant Classrooms: 8 weeks to 15 months
Toddler Classrooms: 15 months to 2 years 9 months
Preschool Classroom: 2 years 9 months to 4 years
Pre-K Classroom: 4 years to 5+ years
When your child is ready to transition from any of our age specific classrooms to the next level, a two-week transition will occur.  During this transition, your child will have two weeks (or longer if necessary) to become acclimated to their new classroom.  The teachers will work together and with you to ensure this is a positive and easy transition for your child.  You will receive a transition schedule that is tentative on your child's needs and comfort with change.